I like to eat, so anytime something gets into my mouth and it my affects my appetite, that's troublesome. [So] I wanted something that would maintain, I wanted to keep as normal as I could keep it. And when [Dr. Sims and I] started talking about implants as being sort of a tooth replacement, it was very appealing to me.
Changing Cledas' Life with a Smile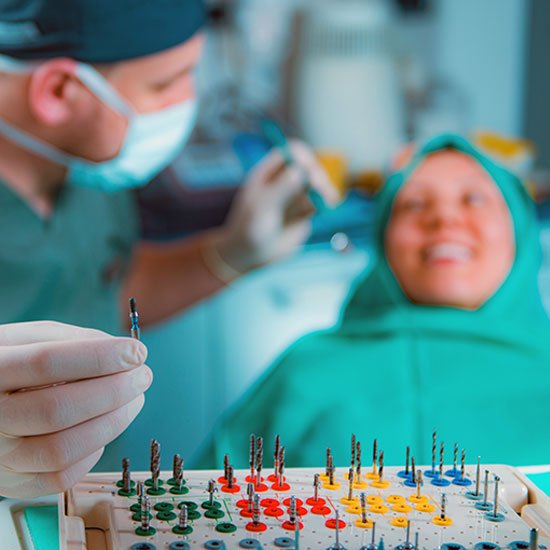 Dental Implants Birmingham, AL
Dental implants might be for you if you have missing teeth, it is crucial to replace them. Not only can missing teeth make chewing and eating difficult and destabilize your bite, but it can also affect your self-confidence. At Dr. Kevin Sims, we want to take your mind off your mouth so you can take on the world. Implants are a great way to replace your missing teeth and can give you a bright, beautiful smile that will last a lifetime.
A dental implant is a new tooth made of metal and porcelain that looks just like your natural tooth—so you can flash those pearly whites without fear, knowing that no one will ever suspect you have a replacement tooth
In addition to tooth replacement, implants may be used to anchor dentures, especially lower dentures that tend to shift when you talk or chew. If you have removable partial dentures, implants can replace missing teeth so that you have a more natural looking smile.
Are You a Candidate for Dental Implants?
The ideal candidate for a dental implant is in good general and oral health. Adequate bone in your jaw is needed to support the implant, and the best candidates have healthy gum tissues that are free of periodontal disease.
Dental implants are intimately connected with the gum tissues and underlying bone in the mouth. Since periodontists are the dental experts who specialize in precisely these areas, they are ideal members of your dental implant team. Not only do periodontists have experience working with other dental professionals, they also have the special knowledge, training and facilities that you need to have teeth that look and feel just like your own. Your dentist and periodontist will work together to make your dreams come true.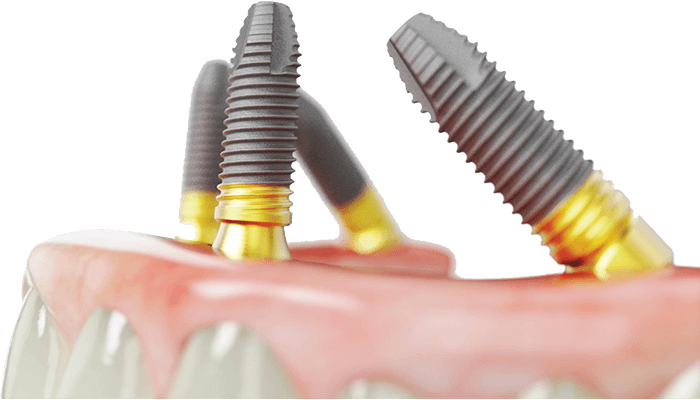 All on 4™ and TeethXpress™ Full Arch Implant Restorations
With All-on-4® Treatment Concept and TeethXpress™ dental implants, you'll get a brand new smile in just a few hours. The All-on-4™/ TeethXpress™ procedure uses four implants, with the back implants angulated to take maximum advantage of existing bone and allow for immediate fitting of replacement teeth. So whether you have dentures or need full upper or lower restorations, All-on-4™/ TeethXpress™ gives you a full set of replacement teeth in a single appointment.
The Process:
Treatment and planning appointment to allow Dr. Sims to gather information (e.g., iCAT, impressions, photos).
Surgery is scheduled
On surgery day, you come to the office in the morning and leave in the afternoon with a beautiful set of fixed, functional teeth!
Occasional checkups over the next several weeks and months
After 4 to 6 months, implants are integrated to the bone
Enjoy beautiful,  healthy teeth for life
All-on-Four Dental Implant Reconstruction
1 Dental Appointment
4 Dental Implants
No Bone Grafting procedure necessary
Traditional Dental Implant Reconstruction
18 – 24 months of treatment
6 to 8 Dental Implants
Bone Grafting procedure typically necessary
May require wearing a removable denture for an unacceptable period of time